So Vedat Milor loves Ledoyen. In Gastroville, he puts is in the same league as l'Ambroisie. And I value Vedat's opinion. And I had never been to Ledoyen, mind you. So we went together for a wonderful evening. One evidence of how wonderful the evening is our surprise when we went out, that it was 2 a.m. already, and not before midnight as we had imagined. Staying home with the kids, my mother also was surprised by the late hour. So: sorry Maman, and thank you Vedat. Special thanks also to Cathy Ho, who happened to be dining at Ledoyen that night too and was kind enough to let me use the pictures that you see in that post. 


Those pictures will no doubt show you how refined and exquisite that place is. It is like the ultimate romantic, Parisian dinner spot, with its location in the park of the Champs Elysées, both in the middle of the city and country-like. The place started 1791 and, while it is perfectly decent, you sure can feel the history. In the daytime, how used the place is may even show too much. But in the evening, it is like a dream, and sure would expect Rita Hayworth and Orson Welles to come in any time. It makes it all the more surprising and, frankly, odd, that there are so many business tables.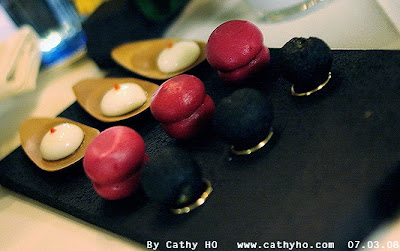 That ultimate refinement is also very apparent in both the amuse and the mignardises. If you take a close look, you will see that, like in some sort of symphony, they actually have a formal similarity. Both are four different bites, the first one like a lollipop, the fourth one on some sort of triangle. Taste wise, the amuses are particularly impressive. As Cathy noticed, they resort to molecular cuisine techniques, like this liquid mozzarella ball, or the lollipop which actually hides a delicious, juicy redmullet. But those techniques, as should always be the case with great chefs, are only used to improve the food experience, and, in that case, highlight the ingredient.


Indeed Ledoyen has top notch ingredients, on par only with l'Ambroisie or Le relais Bernard Loiseau. This was exemplified by what I considered the highlight of a very good meal, the mise en bouche of first (in the season) green vegetables. This was actually exemplary, intense, an experience that opens horizons. Those peas in particular, so incredibly fresh, so crunchy, so full of spring flavours, demonstrate what truly exceptional ingredients cooked with infinite precision and care can be. "Premier matin du monde", they could call it.


Another schockingly good ingredient (among other) was to be found in that infamous langoustine course. There are two different preparations, but the star of the show is the mayonnaise that they spread on the warm langoustine, and which dissolves slowly, strangely moving from the bland, unsurprising taste of Mayonnaise to something more subtle. There again, molecular-like techniques are used for a dish which does not try to play the wow effect usually associated with them. At the same time, this is indeed a non-wow course, and mostly, while it is very interesting and subtle, I am not sure that it brings anything to the exceptional langoustine itself.


Now the same is true, in my opinion, and to a wider extent, of that equally infamous sweetbread. It is roasted on lemongrass and has the most amazing flavours in itself. Serving it on some salsifis also makes a lot of sense. But then the whole subtlety of that dish is overshadowed by a ridiculously strong sauce based on seven different herbs, and also on a very generous use of vinegar. It's not that this sauce did not bring anything to the sweetbread. It actually damaged it.


Truffle is a must in this kind of restaurant at this time of the year. And Ledoyen probably got the best truffles you can find. If that is true (and my experience this year says no different), then it is confirmation that this was a bad season. Mostly those truffle smelled great but tasted close to nothing, not unlike the ones we had earlier in the month at les Ambassadeurs and at La Régalade. That said, I don't think that such a top restaurant should serve truffle at all when they are of unsufficient quality. And at any rate, they should definitely warn serious clients like us. Indeed two truffle based courses were disappointing: a puff pastry one, with an incredible smell at the first bite and nothing after that, and a scallop one that was unremarkable. Expensive disappointments.


(crispy pineapple dessert)

Those disappointments also have to do with a service who does not seem to worry too much about the time sensitivity of dishes. On many occasions, I barely ate warm because we were waiting for the courses of others to arrive or for the explanations and preparations to end. Now this is no major drama, but this reinforces the idea that this is not a food nerd place, unlike l'Ambroisie, l'Arpège, Gagnaire or les Elysées.


While ingredients and technical quality are at the highest level, recipes are more refined than intense, and they are clearly more geared towards being pleasant than maximising their impact. They actually make for a gentle, subtle, very civilised way to accompany an exquisite moment. In that way, Ledoyen is the ultimate super-date, proposal dinner. It is impressive yet warm, high quality yet not distracting. It is a unique place that seems to prolounge an old conception of fancy dinner, using exceptional ingredients and state-of-the-art techniques. At stratospheric prices (count 300 to 400 eur per person).


Desserts were extraordinary. In particular that caramel based one was incredibly intense and subtle -- actually too strong at the end of a degustation meal, but the whole table ended up sharing it. The pinapple iced soufflé was, on the opposite, incredibly light and flavourful.